Time tracking on the app: Quick, easy, reliable
awork allows you to do so much more than just track working hours via the app; it combines smart project management with simple time tracking and worktime analysis – via the web app or on your smartphone.
---
---
The awork app
Time tracking on the app: Here's how it works!
With awork, tracking the number of hours you have worked, becomes child's play. The web app offers many different options – depending on how you like to work and what best suits your personal workflow. E.g. you can track the amount of time spent on projects and tasks directly from the stopwatch. Additionally, you can drag & drop your working hours in awork at the end of the day. Just as easily, you can make use of the calendar integration system which allows you to convert dates into working hours directly.

Tracking hours is even easier with the awork app for iPhone and Android. On the app, a single tap of your thumb is enough to start tracking time within projects, tasks or in the time tracking view.

---
Try time tracking with awork
Try it now
for free
– no credit card required.
Stress-free time tracking
How does time tracking online work?
There are different ways to track your working hours in awork. Most importantly: awork can be used to do much more than just track working time, as it combines time tracking with smart project management.

In the awork web app, you can directly track hours spent on your projects and tasks from the stopwatch, drag and drop hours into the calendar overview or you can directly import dates from your personal calendar into awork and convert them into tracked hours; it couldn't be any easier! Time tracking in awork is rounded out by the various possibilities for analysis.

Tracking time in the native app for iPhone or Android devices is likewise very intuitive. Whether you are start tracking hours within a project, a task or in the time tracking view.

---
Must haves
What kind of time tracking capabilities does the app have?
Tracking colleagues' time with the app
The awork app for your smartphone includes the entire time tracking system. Just like you are used to on the web application. You can start tracking hours on projects and tasks with a single tap. Alternatively, you can just start the stopwatch and add your hours on the app later.
Projects and tasks combined with time tracking
The time tracking tool in awork is directly connected to the project and task management tool. As a result, you can easily start tracking hours on projects, lists or tasks, with a single click on the stopwatch. This works on the app, as well as on the web browser.
Track time the way you want to
Do you like to track your worked hours at the end of the day? Or do you prefer tracking hours on a project live? awork lets you pick the time tracking method that best suits you and your workflow: the stopwatch, the drag & drop feature, or direct calendar time tracking.
Working hours for evaluation
Evaluate your times for internal use or for billing. awork shows you the number of hours have worked for every project, team, client, or activity – in whatever manner you need them.
Invoice working hours
With the direct integration of billing tools, such as lexoffice, sevDesk and the HQ, the tracked working hours can be billed directly to your customers.
Record vacation days in the awork app
You're out of office for a few days because you're on vacation? Or you would like to see the absences of your colleagues for better planning? No problem with the awork Web App!
---
Smart time tracking
What are the pros of having a time tracking app as opposed to using Excel?
The exhausting act of entering working hours in Excel sheets? With awork you no longer have to think about forgotten time entries or various versions of the same Excel sheet.

awork updates all the information automatically, so you will always have the most up-to-date version on your screen before you. And if you ever forget to track a few hours, awork will remind you to do so. Tracking hours has never been this stress-free!

However, if you do ever need to examine your worked hours in Excel, the "Export" button is but a click away.

---
Free time tracking
How much does time tracking cost?
Even if nobody likes doing it, time tracking is necessary. Only then, can processes be optimised and profits be made. Freelancers certainly cannot do without some form of time tracking, as it is very important for them to have proof of how much time was spent on a particular activity.

Since time tracking is such an essential part of the business process, we feel that anyone should be able to afford it. You can try awork for 14 days for free. awork's premium membership offers all of the features for 10 euro per user and month.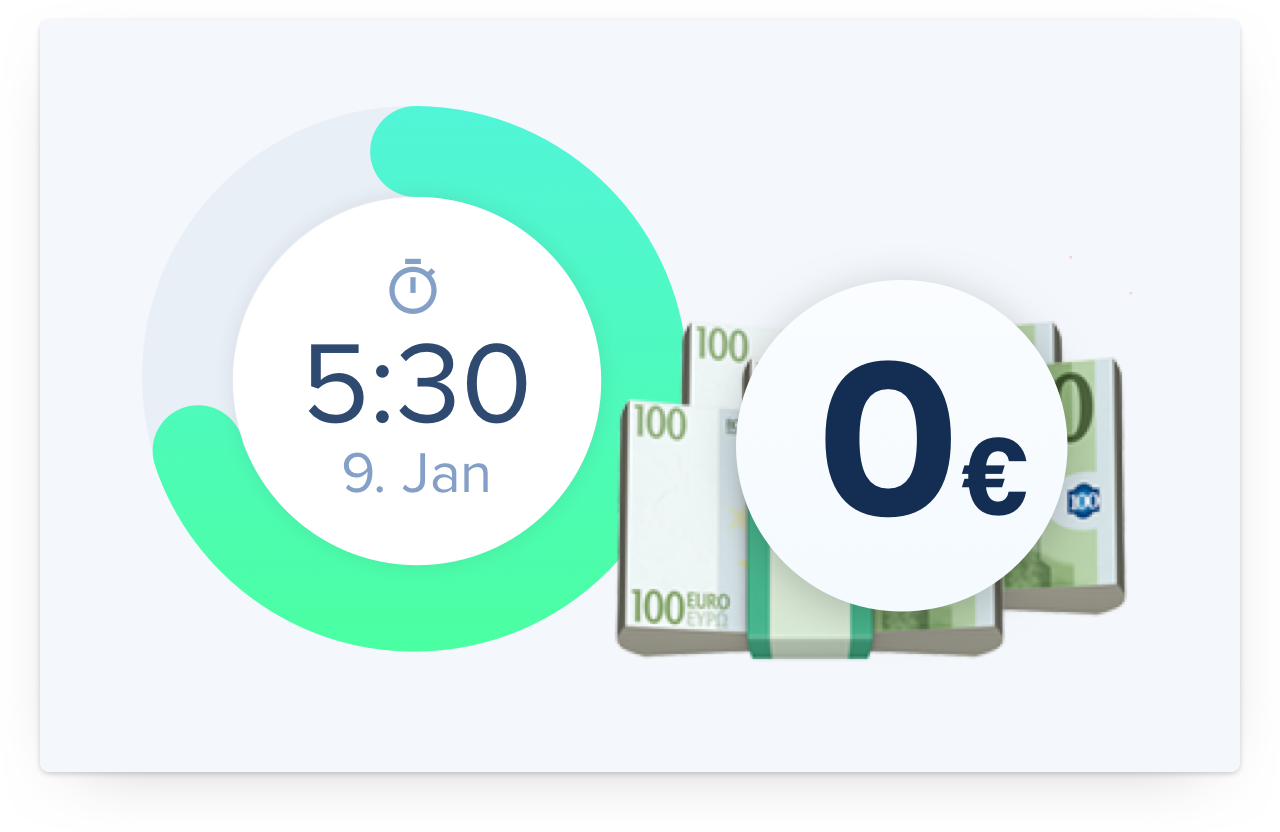 ---
Start for free
Can I try out the time tracking app for free?
awork, as well as awork's time tracker, is free for 14 days. So, you can try out the time tracking on the app at any time, free of charge.
Give it a try!
---
Tracking time on mobile devices using the app
Does the app work on iPhone?
The native app works on both iPhone and Android devices and is available in both app stores.
Does the time tracker software work on Mac?
Yes, awork can also be used on Mac. The tool is a web-based app and is available on every browser.
Does the app also work on Android devices?
The native app is available for download for both iPhone and Android devices.
---
---
Simple, intuitive & secure
Premium
The complete awork feature set for more productive time tracking.
Try 14 days for free
Support included