Plan projects, manage tasks and track your work
awork is the digital assistant for productive teams.
---
---
---
Taskmanagement
More fun getting things done
Manage tasks in simple to-do-lists
Use convenient lists to organise your tasks. Create lists based on topic, project phase or priority and get things done as structured as possible.
Get things done on flexible boards
Use customisable kanban boards for the perfekt overview. They include previews of files, images and comments.
Clear responsibilities and deadlines
With awork, every member of your team knows their responsibilities and what's due. Nothing goes unnoticed thanks to awork's smart notifications.
Flexible task views across projects
Create custom filters across all your projects. This way's you'll never lose track of important tasks. Share task views to give everyone on the team the same transparency.
More structure with sub-tasks
Split your to-dos into smaller sub-tasks to create structure and remember every aspect of your projects.
Create recurring tasks
Daily, weekly, monthly, yearly or custom: some tasks have to be completed regularly. With awork you'll never miss one of them again.
---
Project management
Keep your projects on track
Visual project timelines

Plan your projects visually with awork's beautiful timeline view. Add milestones and dependencies to keep everything on track.
Organise projects by client
awork lets you structure your projects by client so you always know who your work is for. Internal projects work just as well, of course.
Create teams with roles and rights
Make sure, that everyone has access to what's important to them. No more and no less.
Use custom task-bundles to create templates
Why reinvent the wheel? Create flexible templates with lists and tasks for your next projects. awork can add them automatically when your project reaches a new status.
Work with external partners
Freelancer, Clients and other partners can easily be invited to shared projects in awork.
Plan resource requirements
With awork's team planer, you'll quickly recognise resource peaks and make sure that projects get finished on time.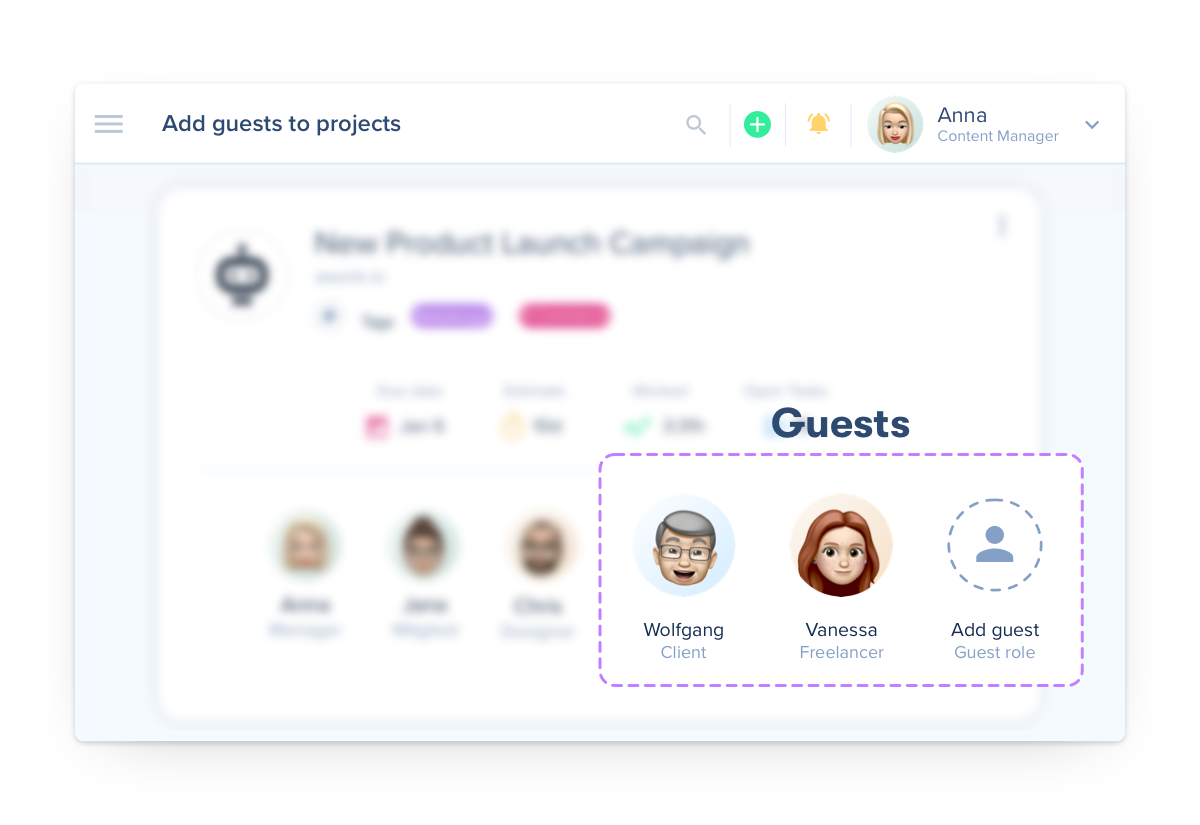 ---
Automatic project management
Projects as if by magic
Flexible automations
If X, then Y. And Z, too. It's that easy to create flexible automations for your projects in awork. More than 400 combinations are available.
Projects on autopilot
Activate the Autopilot to have any important developments under control. awork reminds you of upcoming deadlines, stretched budgets and outdated timelines – automatically across all your projects.
---
TIME TRACKING
Faster progress
Track with awork's stop watch
Start tracking on projects or tasks with a single click. awork reminds you automatically, should you forget to track.
Track with drag & drop
To quickly track your times at the end of the day, simply drag in awork's timeline to create new entries.
Track from your calendar

Integrate your Apple iCloud, Google Calendar or Microsoft Office365 to convert appointments to time entries with a single click.
Reports by team, project, client or type of work
Create internal reports or use exports to send your times to a billing tool. awork offers reports by client, project, team or type of work.
Flexible Excel exports
They are your times – export them to Excel to use however you like.
Create invoices from time entries
awork comes with built-in integrations to powerful billing tools. Transfer your times to them with just a click.
---
---
TEAM COMMUNICATION
Let's discuss
Communicate in tasks and projects
Work is communication. Use comments to document your decisions and keep everyone up to date on the team's status. Simply tag users to send additional notifications.
Attach files to tasks and comments
Pictures, tables, presentations or designs: attach your files to projects, tasks or use them in comments.
Direct notifications (tagging)
If you want to notify your teammates, use their name in your comments (@Lucy) an awork will take care of the rest.
Integrate Slack & Microsoft Teams
Slack or MS Teams are the central communication channel for many teams. Integrate awork to get direct notifications for your projects and tasks in Slack or MS Teams.
Smart notifications
awork reminds you to track your work, have a look at due tasks any many other important events.
---
Integrations
Connect 1.000+ apps
Connect 1.000+ apps using Zapier
Connect awork to more than 1.000 apps thanks to our Zapier integration. Automatically create projects and tasks in awork or transfer time entries to your billing tool.
Direct Slack and MS Teams integration
Connect awork to Slack or MS Teams and stay up to date on tasks and projects in your central communications tool. Learn more.
Use Google, Microsoft and iCloud calendars for your time tracking
You basically live by your calendar? Our direct integration with all major calendar services lets you convert your appointments into time entries with a single click.
Open REST API for custom integrations
Access all important data and features via our open REST API. Create your own integrations and reports.
Google Assistant integration

Talk to awork on your smartphone or Google Home speaker. Make awork create new projects and tasks and start your time tracking with a voice command.
Billing-tool integrations
awork connects to several state-of-the-art billing tools to transform your tracked times into invoice positions.
---
Simple, intuitive & secure
Sign up to get started for free
Premium
The complete awork feature set for more productive teamwork.
Try 14 days for free
Support included