The planning tool your team will love
Perfectly orchestrated teamwork – intuitive and simple. Spend less time planning and enjoy bringing wonderful ideas to life.
---
---
Plan projects and schedule availabilites
Transparent team schedule
Coordinate your team
Plan multiple projects simultaneously across all members of your team. With awork's team planer, you'll quickly recognise resource peaks and make sure that projects get finished on time.
---
Switch task views
Work any way you like: lists, boards, or timelines
In awork, you can organise your work in simple to-do-lists by topic or timeframe. To get an even better status report, switch to kanban or timeline views.
---
Project templates
Standardise your projects and save time by reusing tasks and timelines.
Groups & permissions
Assign roles and permissions to make sure that every user sees exactly what they're supposed to see.
Time budgets
Use budgets to compare planned efforts to actual project progress.
Work with external partners
awork is built to work with external partners such as freelancers or clients.
Working with tasks
Visual planning
Structured timelines for your tasks
Visualise your tasks on a timeline and add dependencies and milestones. Everyone on the team will immediately see what deadlines are due next.
---
Detailed briefings
Know exactly what to do
Tasks in awork are a central hub for your work: Detailed descriptions, sub-tasks, attachments and integrated communication – everything is in one place.
---
Custom dashboards
Individual dashboards create transparency and show your team's status at a glance.
Recurring tasks
Weekly check-ins, monthly reports or annual reminders: let awork recreate important tasks for you.
Automations
If X then Y. And Z. Choose among 400+ automations to accelerate your workflows in awork.
Email to task
Emails weren't built for project management. Send them to awork and transform them into tasks for your team.
Better teamwork
Chat and notifications
All updates in a central place
Updates, feedback, discussions and decisions are immediately visible to your team. awork notifies project teams and updates managers automatically.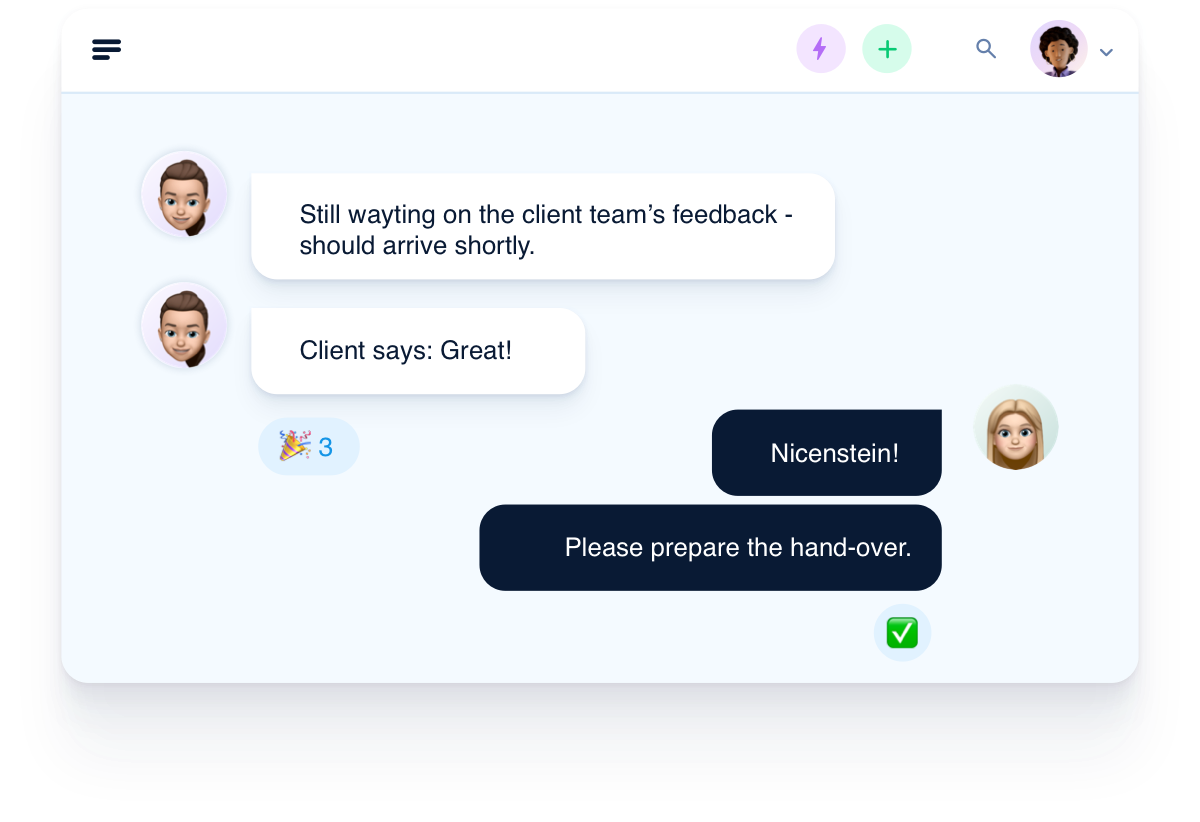 ---
Working with files
Files and tasks go hand in hand
Attach files to your tasks and projects or link them directly from your Google Drive and Microsoft OneDrive / Sharepoint accounts.
---
Smart notifications
awork notifies you of all important developments, milestones and deadlines.
Slack + teams integration
Connect awork to your communications tool to receive updates, create tasks and comments from your channels and groups.
Dependencies
Some tasks can only be started, once all requirements have been met. Connect tasks in the timeline to have awork notify you when it's time to start.
Mention teams
Notify teammates and complete teams by tagging them with the @-symbol.
Time tracking
Integrated time tracking
Projects, task and times belong together
Tracking times needs to be fast and convenient. We integrated it directly into your projects and tasks to include as much information as possible automatically. 0:00
---
Fast time tracking
Track your times however you like
Use awork's timer, insert times by dragging in your timeline or connect your calendar to transform appointments into times.
---
Time reports
Create flexible reports from your times by team, project or client.
Create invoices from your times
Send tracked times to your billing tool directly from awork's time reports.
With or without timer
Klick play to start awork's timer whenever you work on a task. Should you forget the timer, awork will remind you.
Calendar integration
Connect your Google, Microsoft or Apple calendar to turn your appointments into times with a click.
Integrations and services
Viele Integrationen
Connect 1,000+ apps to awork
You're using more than one tool in your digital workplace. Connect them to awork to create a seamless workflow. Use direct integrations, Zapier or our open REST-API to build integrations with varying complexity.
---
awork on the App Store
iOS & Android App
Get the awork App on the iOS AppStore or Android Play Store. We've optimised our mobile apps for the mobile use-case: Push notifications, fast task management and simple time tracking.
---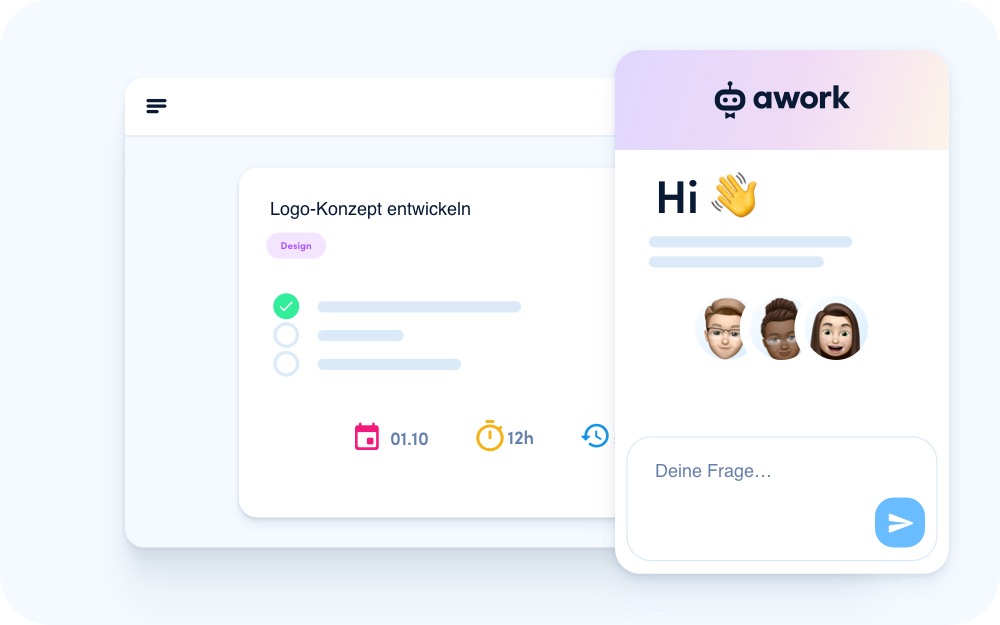 World class support
Talk to us! We'll answer your questions via email, chat or phone within minutes. awork is documented in a comprehensive helpcenter including tutorial videos.
Developed and hosted in the EU
We develop and host awork in the EU, our team is based in beautiful Hamburg.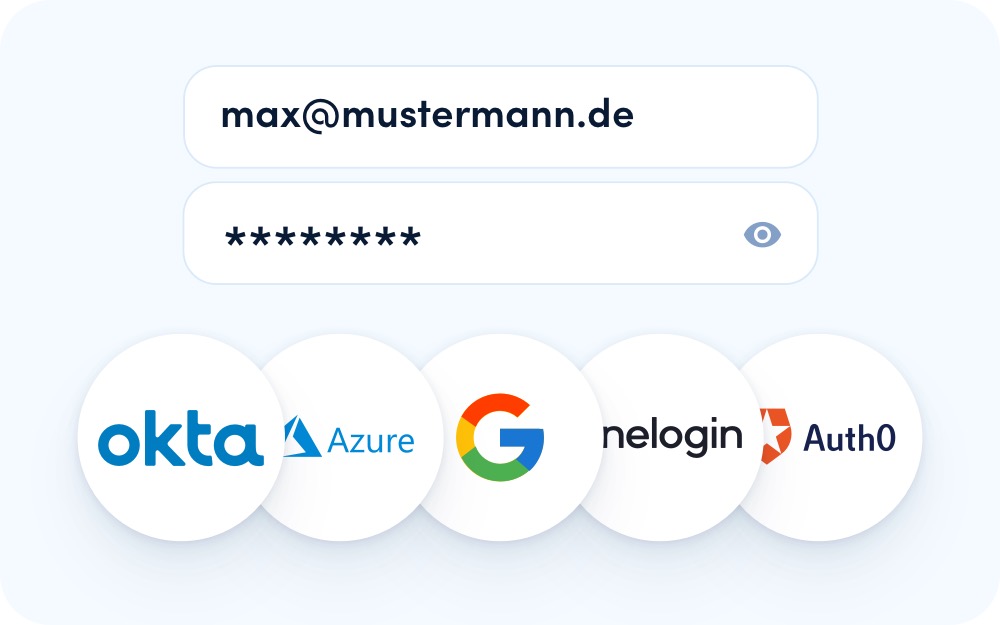 Single sign on
Connect awork to your organisation's SSO-solution to simplify user and credential management.