awork's project and task concept is based on our years of experience in project management (500+ projects) and productivity tool development (10,000+ active users). We asked ourselves what a tool would have to look like that would allow us to perfectly organize each of our diverse projects – and then we simply implemented the answer. In this article, we give a little insight into the system of project planning with awork. How do task lists work in awork? And how do I use them correctly?
What is project planning actually about?
Structuring the workload of a project is an essential part of project work or project planning. Structuring and planning the upcoming tasks has three main goals:
To break down the workload for the project goal into individual tasks, making the actual work steps clear.
To be able to monitor progress throughout the duration of the project in order to manage it accordingly.
Make transparent to everyone involved about their current and upcoming tasks..
Whether you work with agile techniques, classic Gantt plans, or simple to-do lists, the goals remain the same.
From our own experience, we can say that not every project in a team runs or is worked on in the same way, although you have your favored approach for the majority of projects. Workflow tools that only rely on a Kanban board, pure Gantt planning tools, or ticketing systems are therefore only suitable for a part of the projects, and the rest is processed with Excel or covered by various task tools. Rarely does one have a holistic overview of all to-dos and projects.
As a software team with our own consulting and many customers in the agency sector, we know the issues and associated problems too well. This is exactly the reason why awork creates great flexibility with its unique list system. This allows users to structure each project according to the team's preferences – and we don't mean simply having different views for your group of tasks.
The power of task lists
In awork, you have the possibility to create as many task lists as you like for each project. A single task can appear in several lists, which makes the whole thing so flexible. Is that it? Yes, almost. Each of these lists can be displayed by each user as they want or sorted by their desired relevance. For example, simply hide tasks that aren't interesting for me or display it as a Kanban board to better see the progress overview.
But why is this so powerful?
The best way to find out is to give a few examples that make explain the system and its significant advantages. Let's go! 🤓
Project planning with awork in software development
Project planning with awork in software development
In Scrum, you work in sprints and maintain a backlog. For the backlog, you simply create a list; the product owner fills it and arranges all tasks/stories according to priority. When a sprint begins, the Scrum Team or the Scrum Master creates another list with the sprint identifier. The sprint is then filled with the backlog stories according to the priority, and the tasks are then moved to the sprint list. The sprint list can also be displayed as a board for a better overview for the Scrum Team and the Scrum Master. If a sprint is completed, awork automatically hides the list with the old sprint and creates a new sprint list.
One does not always follow the classical approach in Scrum. Often seen and very popular is, for example, the division of the backlog into product features and technology topics. Here you can also maintain two backlog lists. Bug or feedback lists are also appropriate here.
In our own process, we also often bundle features into smaller releases that sometimes span multiple sprints. Just create a list with the release name, add stories to the list (without moving them), and voilà, you have the perfect overview of the release progress – next to the actual sprint boards.
Task lists in awork for product road mapping
Product road mapping is an activity that involves collecting, evaluating, and structuring ideas or concrete plans. Every product manager has their own ideas about how this can be done most effectively for their own products. With the lists in awork, almost every preference can be mapped cleanly.
A simple possibility is, for example, the maintenance of an integrated list with all scheduled projects. In addition, each of these projects can also appear in separate lists for the different product areas to keep a clear overview of the topics in the individual areas.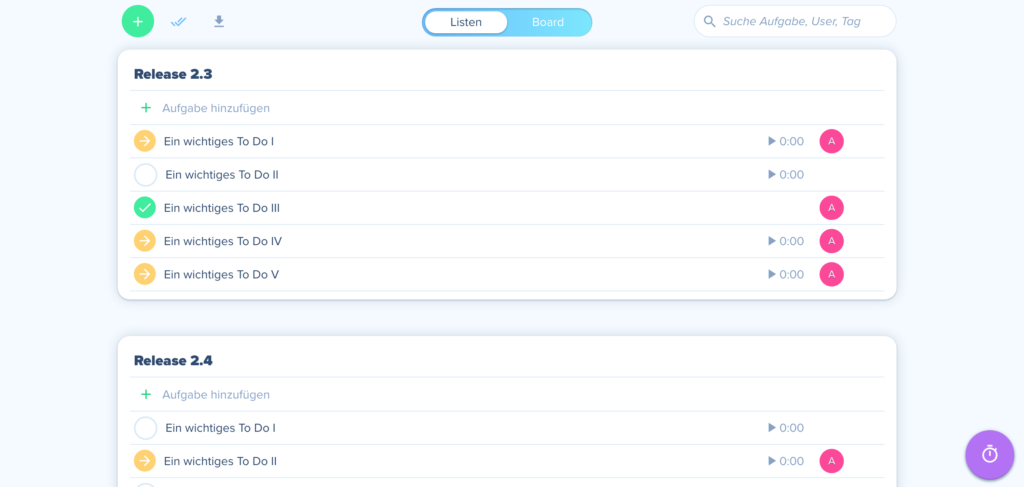 An idea list is usually filled from various sources, such as customer inquiries, surveys, ideas from your own ranks, etc. Once these have been screened, they can either be added to the roadmap or sorted out with an appropriate task status.
A list can also represent each release by assigning the tasks to it
Tip: Through a simple Zapier integration from a customer feedback portal, such as Zendesk, new customer ideas can be automatically transferred to the roadmap idea pool.
Project planning with awork in design projects – creating task lists
In the agency sector, it is common to structure the job into individual deliverables (e.g., texts, graphics, product visualizations, etc.), as these are often billed separately. For each deliverable, you can create a list in awork and thus create clear divides of the job into individual areas. In addition, a list of overhead activities is often useful for the project manager. In this list, you can plan or record customer contacts, invoicing, preliminary talks, inquiries, etc.
With the subtasks in awork, you can plan your tasks even better. For example, a to-do can consist of several subtasks. Instead of creating a new task in awork for each to-do, you can insert subtasks into the respective task. For example, in a design project, you can break down the design of new Facebook ads into the steps of brainstorming, copywriting, design, and management in the Facebook Ads Manager. Subtasks aren't just super great for keeping track of task progress. They're also handy when you're working with multiple people on a to-do. In our particular example, a designer, a copywriter, and a marketing manager would be involved in the task.
Project planning with awork in consulting projects
Project planning with awork in consulting projects
Consulting projects are often structured into different project phases. Often into a phase structure, such as Kick-Off, Analysis, Conception, Preparation, Conclusion. Here, too, lists prove to be useful. This way, you can map each phase in a list and neatly monitor the progress of the project.
Project planning with awork in internal ticketing – create task lists
Every team has internal topics that constantly come up and need to be worked out. Be it in marketing, the optimization of advertising campaigns, development and implementation of ideas from the process retrospectives, or others.
Like in a ticketing system, the first intention would be to easily throw every activity into a big task list, e.g., fill a big list with all topics and create a list "this week". Urgent topics can be moved to this task list and assigned to the appropriate people.
Tip from us: Leave out the big list of all collected tasks and divide all topics into three lists: Prio High, Prio Medium, and Idea Pool. This makes it easier for you and your team to find tasks in your awork quickly and to keep a constant overview.
Also welcome is the division into different task areas or even the combination of these with a Prio list. For example, for advertising campaigns, a division into the different products or the different marketing channels can use a task list "this week" or "priority A".