Whether you're an agency, event planner, or start-up – planning projects is part of your everyday work. Numerous to-dos and deadlines accompany every project. With this, a project seldom comes alone, so in addition to good teamwork, organizational talent is also required. How quickly is a deadline, a small to-do, or a comment from a colleague forgotten? The right project management can help!
Project management tools, such as awork, have been developed for flexible and precise team collaboration. The great advantage of such smart helpers is that all information for each team member is bundled centrally in one place, and thanks to the modern cloud solution (SaaS), there is also no need to download the software.
The only question that remains is: What do teams actually want from a project management tool like awork? And what do they really need?
This is how project management works today: digitally and flexibly
The world of work is changing, and in many offices, traditional structures are being broken down: Some colleagues work from their home office or from the café around the corner. In some offices, there are no longer fixed working hours, and arrangements with colleagues are increasingly being made digitally.
Some companies are even testing the 4-day work-week with success. Microsoft, for example, introduced the 4-day week on a trial basis in August 2019 and reported that there was much to suggest that shorter weekly working hours increased employee productivity. Accordingly, the conclusion would be: Those with less time on their hands work more quickly and purposefully.
There are similar developments in the area of flexwork. According to a 2019 study by the Trendence Institute, 79 percent of the young professionals surveyed said that they are already offered the opportunity to work in a home office. And as many as 64.9 percent believe that they are more productive and can deliver better work results in a home office.
When colleagues are not working in the same place, communication with the team becomes even more important. This is because the study also showed that half of the respondents believe (51.3 percent) that remote work has a negative impact on the team. At the same time, the study concluded that modern cloud solutions or communication tools, such as Slack, are far too little used in many offices.
One thing is sure; teamwork is becoming faster and, above all, more mobile.
One thing is sure; teamwork is becoming faster and, above all, more mobile. In order to support teams in this change, smart project management tools are available that address the needs, simplify complex and confusing work processes, and at the same time promote communication with the team.
Project management for teams – how it works:
Teams need a digital workplace that is accessible to all.
However, there should also be clear rights management here.
It must be possible to find agreements quickly and easily.
Who is working on which to-do? Clear responsibilities are the keyword here..
Everything in one place – no more switching back and forth between many tools. This is error-prone and kills productivity.
Whether on the laptop or mobile with the app, the tool should always be accessible.
How long did a project take? Time tracking and the evaluation of the recorded times facilitate the processes for the team.
Whether on Kanban boards, in smart lists, or visually – project management is diverse and should be as flexible as the team.
Project management with awork – perfect for your team
Whether your team consists of five or 30 colleagues, the challenges are ultimately the same. The tool must not be too complicated, but it must still be complex and accessible to every team member.
In addition, there are the new requirements for collaboration in a modern team, keyword New Work. Today, project managers have to coach their colleagues more than they lead, enable more than they determine, and steer more than they control when it comes to processes.
Collaboration within the team and the self-organization of each individual are therefore becoming more important. Digital tools are playing an increasingly important role here because, with a large number of projects and challenges in the team, the overview must always be maintained. This is impossible without agile methods and smart project management tools.
With awork team planning, you can now manage resources across multiple projects. To do this, you can simply switch between the project and the team view.
Project management with awork – just start
With awork, your team can start right away, because there is no need to download the software. awork is a cloud solution (SaaS), which means that you can start planning your projects and create your first to-dos right away. Our servers are located exclusively in Germany.
Once the first tasks have been created in awork, it is important that everyone in the team has access to the project and the tasks to be worked on.
Clear responsibilities and an intuitive user interface help to ensure that everyone has a good overview and that the right contact person can be found quickly in case of questions or feedback.
Did you know that you can completely customize your dashboard in awork? Decide for yourself which widgets you need daily for a quick overview and add them to your dashboard.
Project management: checklist for team collaboration
Who is working on which to-dos? Always assign a responsibility!
When does the task have to be done? Set a deadline!
Are there feedback loops? Plan time accordingly!
Tip: Comments and notifications directly in the tool keep your team always up to date.
Agile work
Everyone works differently, so there are several ways to plan projects in awork. You can either create your tasks in smart lists, work on flexible Kanban boards, or plan your projects visually in the timeline.
A Kanban board shows in a central place which topics are in focus and what should be done in a timely manner. Team members not only have an overview of their own to-dos, but it is also immediately visible how busy team colleagues are and whether they need support. This is also very practical and can help to reduce headaches in case someone is sick.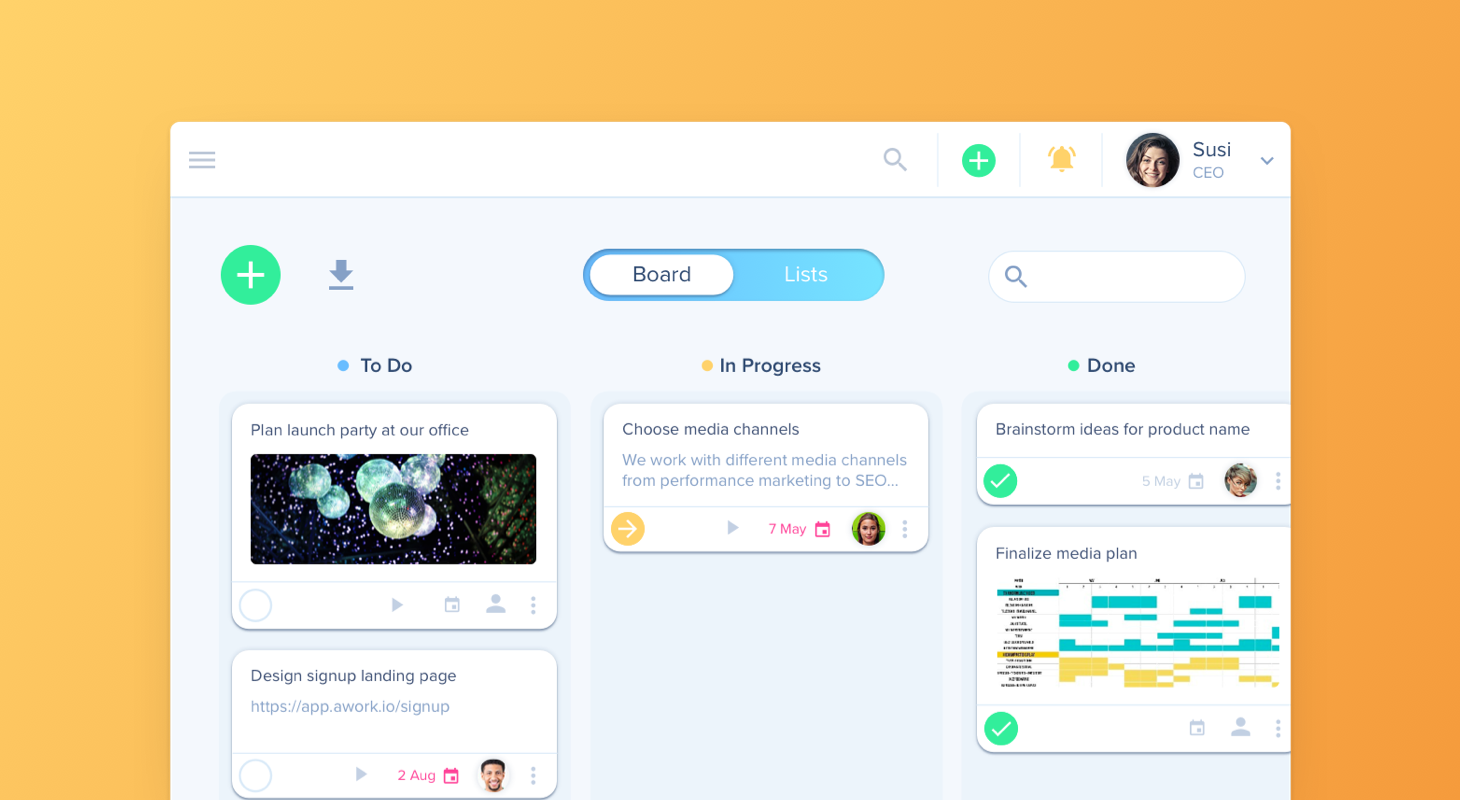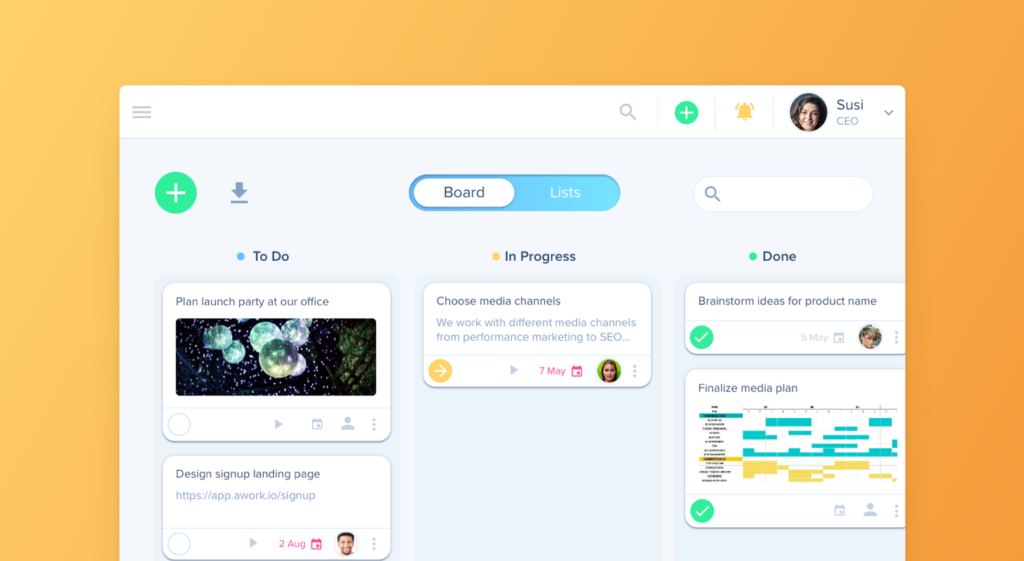 This is the greatest strength of the Kanban board: It gives a quick insight into the project status.
If too many to-dos are "stuck" at the same time or progress is slow, weaknesses in the work process become apparent even before the project team has the feeling that a project is not running smoothly. This is one of the great strengths of the Kanban board: It gives a quick insight into the project status.
Especially in teams, there are more extensive projects where several to-dos come together. How about a visual schedule for such projects to get a good overview also in terms of time?
With the visual planning in awork you can display all project tasks in a timeline and set milestones. This way, each team member can see at a glance when individual tasks need to be completed and how much time has been scheduled for each to-do. Just add a start date and a deadline to your tasks, and the task will be displayed directly in the Timeline. Of course, you can also create new tasks in the Timeline.
The most convenient thing about visual scheduling with the Timeline is that you can identify dependency problems early on. If a task is waiting for another one to be completed, you can represent this dependency with an arrow. This helps to meet deadlines and to identify problems in time.
What's especially handy about visual planning with the Timeline is that you can identify dependency issues early.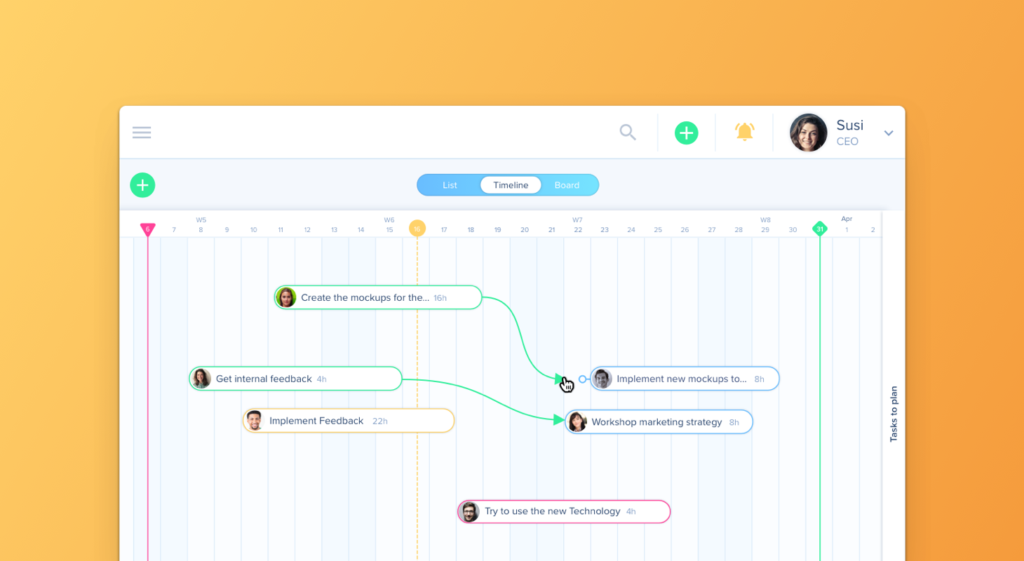 Mobile project management
Mobile working is no longer a rarity these days. It is, therefore, all the more important that your project management tool is always with you on the go.
With the awork app, you are always up to date, even on the go. You can create tasks, manage projects, coordinate with your colleagues or quickly start time tracking. This makes team communication quick and easy, even when you're on the go. Simply tag your colleagues with the @ sign, and they will receive a notification directly in the tool and also by e-mail. Your colleagues will then get to the right task in awork with one click and can reply to you immediately.
Mobile time tracking is especially handy. Work on specific to-dos while on the train or start your time tracking directly from a customer appointment..
Time is Money? Time tracking and time evaluations
Speaking of time tracking, it's a difficult topic. Some are afraid of control, and others demonize time tracking because it is not a measurement criterion for the creative industry, and still others criticize the wasted time.
On the other hand, there are also people who have identified a number of time wasters through time tracking tools and have ultimately become more productive.
Since physical presence is becoming less and less important in modern work, companies need solutions that also work in the home office. Therefore, the ability to track time – at best directly on projects or tasks – also belongs in a smart project management tool.
At its core, time tracking is a mechanism to properly record and optimize processes. Working time recording is about the start, end, and total of working time. On the other hand, project time tracking determines the distribution of working time among different projects, tasks, processes, or customers.
Time recording should primarily not be used for control purposes but rather for self-assessment.
Therefore, a good time recording system should cover the entire working day and record how much time you have spent on which activity. This is the only way to optimize processes.
Very important: Ignore the 8-hour maximum! It is a misconception that we have to allocate and record eight working hours a day to our tasks. No employee is productive or creative eight hours a day.
Time tracking in awork
You have several ways to record your times in awork. Mobile and in the web app.
You can easily record your times directly on tasks or projects with the awork stopwatch or simply drag and drop them from your calendar. Of course, you can also record your times later if you forgot to activate the stopwatch. In awork you also have the possibility to import appointments from your personal calendar directly into awork and convert them into times.
The numerous possibilities of time recording support the cooperation in the team enormously. This allows you to see at first glance which topics take more time and should be calculated with more effort and which are processed faster.
Of course, to really optimize your workflow, it's not enough to just record your times. They also must also be evaluated. In awork, you have a variety of filter and grouping options to create meaningful time evaluations. Your individual evaluations can be downloaded as Excel or PDF files.
This function is also important for teams. On the one hand, the evaluations can be attached directly to a customer invoice, including logo, on the other hand, the team gets a better overview of the workload and the duration of the individual tasks of the project.
In awork you can now also have your recorded times converted directly into an invoice, edit it, and send it to your customers. From now on, we have integrated three invoicing tools into awork for you to choose between.
awork has interfaces to 1,000+ other apps in addition to smart time tracking. But you may ask, why do such integrations make sense for teams?
Tools no one wants to do without
In every team, there are tools that no one wants to do without. These tools often make working together in a team much easier. However, as the study by the Trendence Institute has shown, such tools are used by too few companies. This makes it all the more important to integrate them into the project management tool.
One popular tool for team communication is Slack, for example. Via Slack, your colleagues can create groups or communicate directly with just one person. In doing so, data can be sent back and forth, helping you keep up to date. Perfect for colleagues in home offices or open-plan offices.
awork offers direct integration with Slack. Thus, tasks can be created in awork directly from the Slack chat, or time tracking can be started on a task. Employees can also start project planning directly from the chat and don't even have to switch tools to do it!
Conclusion
Project management tools help support teams in organizing projects and working together with colleagues easier and faster. This way, all team members are up to date, all information is in one central place, and unnecessary meetings or redundant emails are a thing of the past.